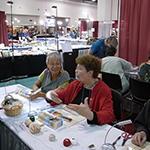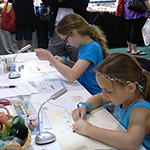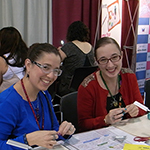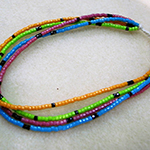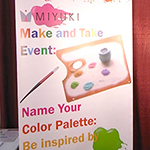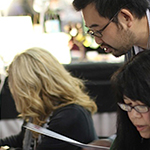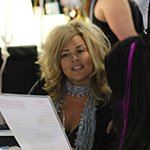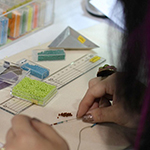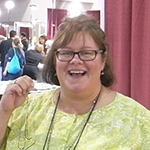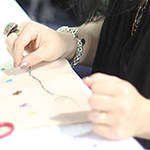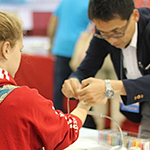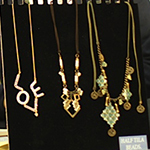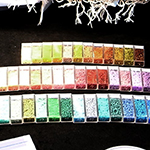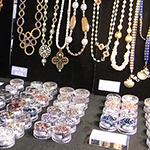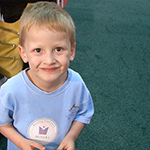 Booth snapshops: Click to enlarge. View thumbnails click again
Special thanks: Naomi Yogo


Thank you very much for joining our event. We would like to share the atmosphere of the booth. Also we introduce many wonderful "color palettes"created by participants during the event. We appreciate very much participant's kindness.
Any new "Color palette" ideas come out, please let us know for share.

Palette Name: The Burning Swamp
Name: Alex Hahn
Palette Name: Spring is coming
Name: Alexandra Sydoienko

Palette Name: Lilac Dream
Name: Aniela Janachowshi
Palette Name: Summer Breeze
Name: Anita Bernard

Palette Name: Where's the Easter Bunny?
Name: Ann Gilbert
Palette Name: Fall into Spring
Name: Barbara Ferburg

Palette Name: There's no place like Kansas
Name: Beth Davison
Palette Name: Purple Haze
Name: Beth Polonsky

Palette Name: Summer in the tropics
Name: Bonnie Polinski
Palette Name: Summertime
Name: Callysta

Palette Name: Water Blossoms
Name: Carole Tripp
Palette Name: Milwaukee's Best
Name: Deb Crowe

Palette Name: Hot in the City
Name: Deb Hosey
Palette Name: DEBRA SAUCIER'S JJJ MIX!
Name: DEBRA SAUCIER

Palette Name: I'm a bad girl!
Name: Diane Fitzgerald
Palette Name: Sedona
Name: Eileen Arwstein

Palette Name: Nature
Name: Emi
Palette Name: Dauntless Flaunes
Name: Ginger Hahn

Palette Name: Sun Drops
Name: Heidi Meyer
Palette Name: Ocean Waves
Name: Jennifer Hanson

Palette Name: JJAN
Name: JJANNIE HUIG of PINK BLUES
Palette Name: South west
Name: Joan Stern

Palette Name: Bluish
Name: Josh
Palette Name: Summer Breeze
Name: Joy Trahan

Palette Name: Ode to "Hello Kitty!"
Name: Joyce Gans
Palette Name: on dragonfly wings
Name: Judy Buelow

Palette Name: Jungle Vibe
Name: Kandis Hunter
Palette Name: Gypsy Flamigo
Name: Kathi

Palette Name: PARTY ON MY WRIST
Name: Katie Wall
Palette Name: Blooming Orchid
Name: KC Price

Palette Name: Peabody
Name: Kensington
Palette Name: Sunny Days
Name: Laura Moore

Palette Name: Chetek Cabin
Name: Laurie Kubu-Wacker
Palette Name: Summer Carnival
Name: Leslie Rope

Palette Name: Summer Sunset
Name: Liana Magee
Palette Name: Sun under the water
Name: Linda Feirberg

Palette Name: Pop!
Name: Lindsay Burke
Palette Name: Canyon Walls
Name: Louann Sheppard

Palette Name: Green Beadle
Name: Luke
Palette Name: Summer Happy Colors
Name: Maria Rodriguez

Palette Name: Simply Summer
Name: Mary Ann Smoot
Palette Name: Lavender aqua
Name: Michele Marak

Palette Name: Indian summer
Name: Michelle Strucker
Palette Name: Piece of Rainbow
Name: Mila Sfocyar

Palette Name: Blue Eagle
Name: Molly
Palette Name: ∆…§Š§ §§Autumn bues
Name: Myrtis

Palette Name: Seafoaum Bliss
Name: Nancy Cain
Palette Name: Seafoaum Bliss
Name: Nancy Cain

Palette Name: Ocean
Name: Naomi Yogo
Palette Name: Tyger Stripe
Name: Nieki Qunham

Palette Name: Spring Buds
Name: Pamela Signorelli
Palette Name: Purple sensation
Name: Patty McCourt

Palette Name: Kitty Purple
Name: Pauline Trout
Palette Name: Missouri Fall Leaves of the Ozark Mountains
Name: Rach H

Palette Name: Missouri Fall Leaves of the Ozark Mountains
Name: Rach H
Palette Name: Forest Splendor
Name: Roberta Hakala

Palette Name: Bloom
Name: Robyana Simons-Sealy
Palette Name: Santafe
Name: Rochelle Lerner

Palette Name: Autumn Memories
Name: Sandra Graves
Palette Name: Copper
Name: Savanna Rostan

Palette Name: Summer Fruit Salad
Name: Shannon Jambard
Palette Name: South Western
Name: Sharon

Palette Name: Summer day
Name: Shona Brooks
Palette Name: Pastelle Princess
Name: Sophie Rostad

Palette Name: Seafoam Dreams
Name: Stephanie Czaja
Palette Name: Rainbow
Name: Susan

Palette Name: Lake Erie Sunset
Name: Susan Pothmann
Palette Name: Spring Time in Milwaukee
Name: Susan Primrose

Palette Name: Stripes Away
Name: Susie Smith
Palette Name: Pretty Punk
Name: Taeja

Palette Name: Y.A.G.A.
Name: Talaya
Palette Name: Spring has sprung
Name: Talley C

Palette Name: Fun At The Show
Name: Vicki Semile
Palette Name: Before the snow
Name: Vonna Maslanka